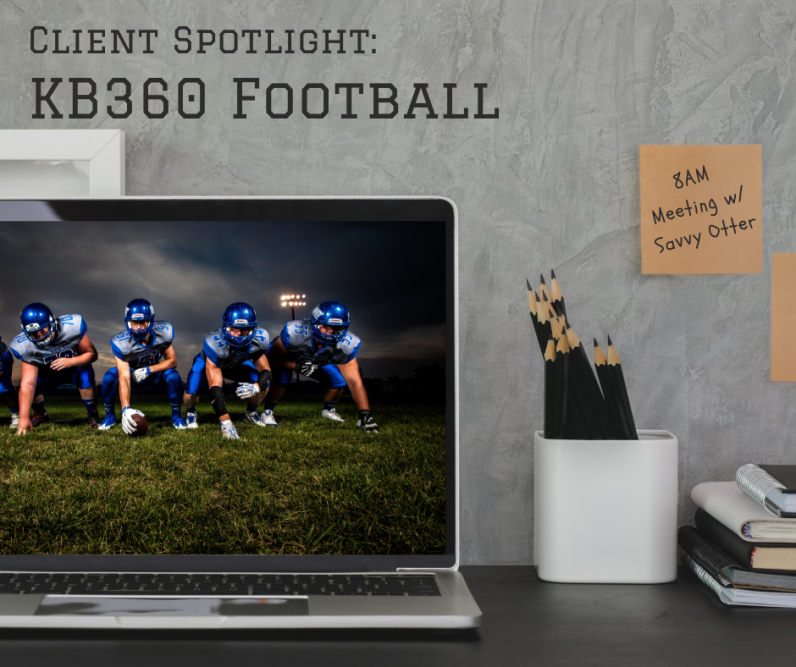 KB360 Football is a sports-centric organization offering products and services to both aspiring collegiate athletes and the institutions that recruit them. While their intent is to expand into multiple sports, they're currently focused on running football combines across the US. Using state-of-the-art technology and a custom ranking system, they provide athletes (grades 3-12) the tools needed to showcase their talents to coaches and recruiters.
KB360's Challenge:
Founders, Keith Blackmon and Keilone Gordon, have been involved in football most of their lives. Having themselves been athletes at the collegiate and professional level, respectively, they understand how to prepare an athlete for collegiate athletics and have been applying their decades of experience and knowledge to running football camps and combines in Houston, TX.
Over the years, they noticed the frustration that athletes, parents and even coaches and recruiters were experiencing with the products and services available in the world of football recruiting. For instance, most athlete ranking programs rely, at least in part, on the opinions of a select few individuals. However, feedback from the coaching and recruiting community indicated that they prefer to have objective, data driven information about the athletes.
There has also been expressed frustration with the methods used to capture the data. Recruiters are finding themselves questioning the accuracy of the data where in a hypercompetitive sport landscape, fractions of a second matter. They wondered how accurate a 40-yard dash time could be if a parent or coach is using a stopwatch to record it. Whenever possible, recruiters want to remove the potential for human error.
Keith and Keilone themselves doubted if their business was scalable nationwide given their heavy reliance on personnel and manual processes. In short, they felt the market was asking for less subjectivity, improved accuracy and increased efficiency.
KB360's Project Goals:
Remove subjectivity from athlete stack rankings
Improve accuracy of data
Reduce the time and cost spent preparing for and conducting a football combine
Make the process more fun, engaging and readily available for the athletes
KB360 developed a vision for a unique combination of products and services that, utilizing technology, would change the college football recruiting industry and take their business to the next level. They shared that vision with Savvy Otter in late 2018 and, after several rounds of consultations and discovery meetings, agreed that we were the right partner for the job.
Why KB360 chose to partner with Savvy Otter:
Consultative style and willingness to bring fresh ideas to the table
Experience developing complex web applications
Experience integrating and developing with APIs and web services
Willingness and ability to support a SaaS style company post development
Savvy Otter Solution:
Savvy Otter developed a comprehensive set of applications that collectively could deliver on their vision. The 4 main segments of the project included:
A marketing website, KB360Football.com
A web application to handle registration, user data and admin functions
An API tie-in with a hardware/software vendor
A desktop application running on Microsoft Surface devices
The marketing site, built on WordPress for it's easy content management features, also serves as the access point for the member and admin portals. The portal (web application) handles the bulk of the processing and data maintenance and is written in .Net with a SQL Server database. To help with athlete engagement, Savvy developed an athlete profile page displaying things like pictures, videos, social media links and dashboards with analytics and rankings.
One of the toughest challenges Savvy had to address was the lack of internet access at some of the combine sites. When KB360 staff members are at KB360 Combines, they need an offline solution to ensure continuity of data flow and speed of data entry and retrieval. They require a device capable of not only capturing but also storing literally hundreds of pictures and videos per event. To that end, Savvy recommended a windows application running on Microsoft Surface devices. This allows for media management (pictures and video of events) and data management that can be synced before and after the event, once a standard internet connection is detected and a "sync" operation is performed.
Savvy delivered the software suite to KB360 Football in mid-2019. With their new software in place, they've been able to easily attract and register new combine participants, efficiently run large scale combines (with or without internet access) and launch a SaaS style membership platform for athletes. They've already been approached by several top collegiate football programs who are eager to access their second to none, objective data driven recruiting database. KB360 has plans to launch their recruiting service in late-2020, Savvy Otter will continue to support them as they evolve and grow their business.